William & Lindsey Private Residence Chico, Ca.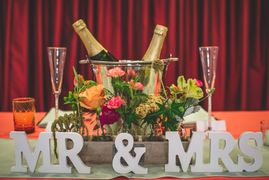 "William & Lindsey said... 
We retained Anita to be our wedding planner and could have not picked a better one! She was incredibly thorough, punctual, professional, calm, she was on top of issues almost before they happened, and most importantly, she has integrity. She did exactly what she said she would do for us on our wedding day. At one point probably 1 hour before the start of our ceremony, it was recognized that the venue did not provide enough dinner plates, glasses, and silverware as was written in the contract we had earlier negotiated. Anita did not miss a beat, she was on the phone and had everything rented and delivered within the hour. She also assisted us with discussing the discrepancy with the venue and we were reimbursed for the price of the rental dinnerware. If you want a hard working & affordable event planner, call Anita."